Start-up your Web business with Microsoft BizSpark
Starting up a Web business, especially in this economy, isn't easy.  Microsoft wants to make it easier.  A few weeks ago we announced Microsoft BizSpark, a new program specifically for Web start-ups which makes it very easy to get access to the latest versions of Windows, SQL, Visual Studio – with full Microsoft support – very easy and absolutely free to get started! 
What do I get with BizSpark?
Software
All the software included in the Visual Studio Team System Team Suite (VSTS) with MSDN Premium subscription Expression Studio (Version 2), plus VSTS Team Foundation Server Standard Edition - for the entire development team
Production license use rights, to deploy, host and support Startup's "software as a service" applications for delivery over the Internet, using the following products: Windows Server (all versions), SQL Server (all versions), BizTalk Server, and Office SharePoint Server for hosting; and Systems Center for managing hosting server operations.
Support
Guidance, resources and mentoring provided by Network Partners, active members of the global software ecosystem who are qualified to provide support and advice to Startups
Access to MSDN Premium: managed newsgroups, online library, online concierge, etc.
Two technical support Incidents per Startup
Visibility
Each BizSpark Startup will have the opportunity to profile their company in the BizSparkDB, an online Startup directory, hosted on the Microsoft Startup Zone web site. Startups will get exposure to potential investors, partners and customers around the world.
Opportunity to be highlighted on the BizSparkDB as a featured company and be promoted as BizSpark Company of the Week on the Microsoft Startup Zone website.
How to qualify?
If you meet these three simple criteria, you can sign-up today:
Actively engaged in development of a software-based product or service that will form a core piece of its current or intended business[1],
Privately held, and in business for less than 3 years[2], and
Less than US $1 million in annual revenue[3].
What happens after three years of participation in BizSpark?
In addition to responsibility for the USD$100 program offering fee, Startups can continue to use the development tools they previously obtained through the program. If Startups wish to continue to receive updates to development tools, Startups can renew their MSDN subscription at usual rates and terms. To continue to use the production licenses, Startups may choose to take advantage of a licensing program like Microsoft's Services Provider License Agreement program (or other Microsoft licensing programs that may be available at the time), but are in no way obligated to do so.
How do I get a sponsor?
In order to protect the program from abuse, Microsoft has put in place a sponsorship requirement.  Finding sponsorship couldn't be easier, the current list of sponsors is included in the sign-up process.  If you don't already belong to one of the existing sponsorship organizations, I can sponsor you!  Just contact me through the 'contact me' link and I'll be happy to help you. 
How easy is it to sign-up?
It is really easy, I did it in less than 5 minutes.  Here are the steps:
1) Go to http://www.microsoft.com/bizspark/ and click "Join BizSpark now!"
2) Sign in with your Live ID or create a new Live ID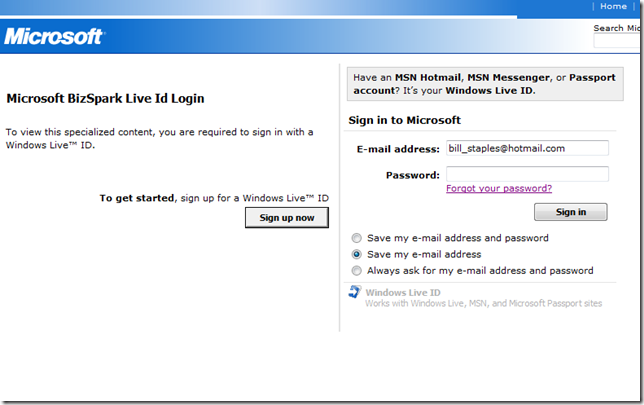 3) Click the "I Accept" check boxes, and enter your enrollment code (If you don't already have a sponsor, contact me and I'll help you get started!)
4) Provide us some basic information about your start-up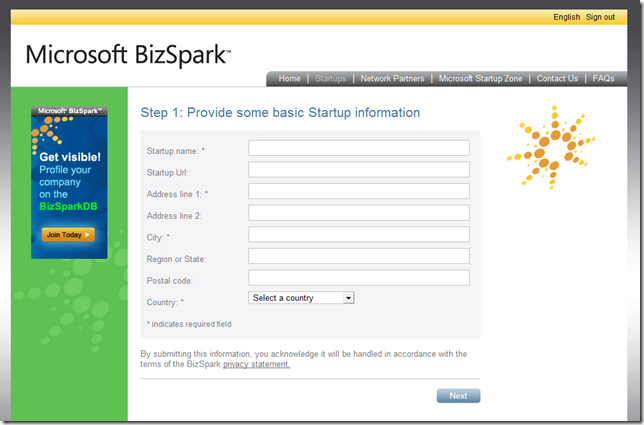 5) Identify your primary contact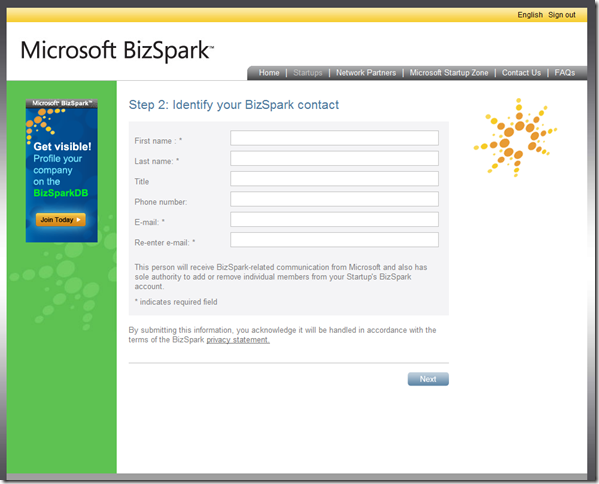 6) You're done!!!  Now you can manage your BizSpark account from here.  Note your BizSpark Subscription ID (blanked out in red).  One of the things you'll want to do next is activate your MSDN subscription using this ID.  You'll need to do this in order to start downloading the software.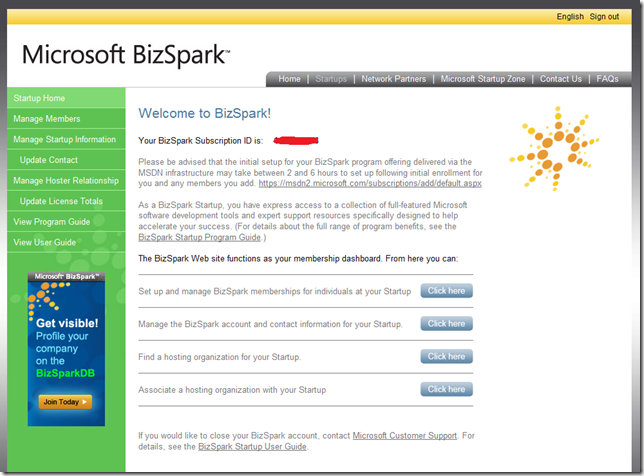 7) To activate your MSDN subscription, visit https://msdn.microsoft.com/en-us/subscriptions/add/default.aspx and enter your name, email and the BizSpark subscription ID from the previous page, click the "I acknowledge and accept" checkbox and submit 'OK'.  (Note, it may take 4-6 hours for your MSDN subscription to become available after signing up for your BizSpark account.  If MSDN doesn't find your subscription, check back later.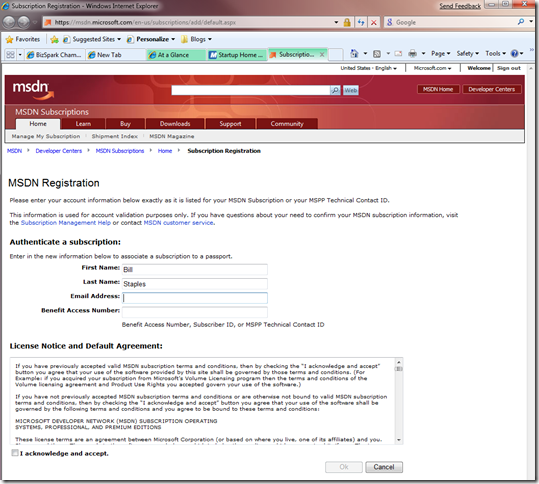 8) Once you're up and running you may want to find a Windows hoster who can work with you and your production use licenses to offer your low-cost, discounted hosting services.  Through the BizSpark Start-up page you can click the "Manage Hoster Relationship" and find hosters in your country which are part of the program.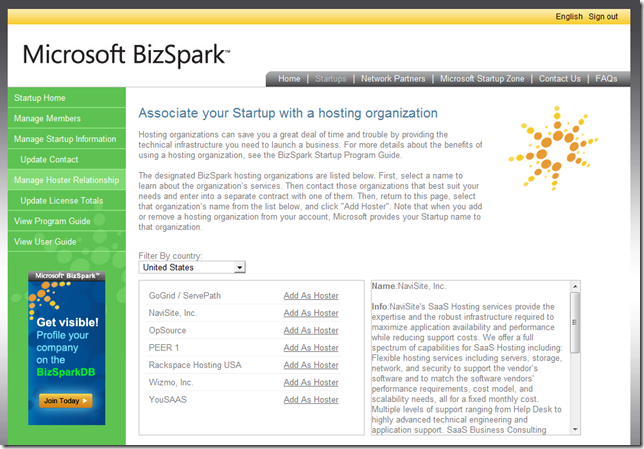 Have questions?  Leave me a comment.  You may also want to check out the BizSpark FAQ:  http://www.microsoftstartupzone.com/BizSpark/Pages/FAQ.aspx